Are you making preparations for event caterers? It's useful to know what to expect and what needs to be done by you. With the excitement of so many delicious meals on the horizon, it can be easy to overlook a few simple steps required to make your caterer's life easier.
With this in mind, we've created this handy guide on what to expect, and how to prepare for the catering company's arrival.
You'll need the following in order to prepare:
The cost of your catering should have been arranged in advance. On the day it will cost nothing to prepare for their setup.
Step One: Make Contact With Your Event Caterers
Before you begin preparing your space, it's essential you touch base with your event caterers. This way, they can convey any requirements they need from you. Therefore, you'll understand their process better. As a result, preparations will be much easier to complete
Your event caterers will most likely pass on the following information to make everything as straight forward as possible:
Timeframe
Equipment
Required space
Health & Safety Information
Step Two: Prepare A Staging Area
When it comes to event catering, a lot can happen behind the scenes. Quite often, most of the menu items will not be prepared or cooked in front of the guests. With this in mind, it's important to note your caterers may need an additional staging area. This will assist them in preparing meals and give them space to make sure all food for your event is perfect. We advise picking a location away from thoroughfare and the general public, so that your caterers have everything they need to focus on the best service possible.
It's important to note that access and parking near the staging area is extremely advisable. This way there's no issue with transporting goods, equipment and vehicles.
Step Three: Ensure Their Space Is Ready
Not only do event caterers need a staging area, but depending on the style of the event and catering, they may also need a space to serve guests. We recommend having this space readily available as soon as possible, so they can set up the ideal platform.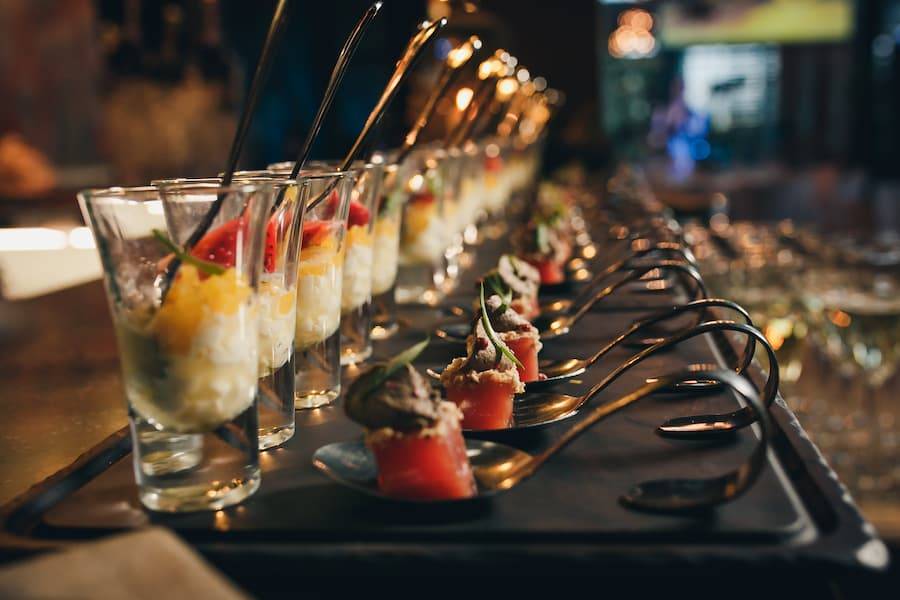 Step Four: Prepare Your Guests For Event Catering
Finally, before you can sit back and enjoy your event, it's advised to notify all guests of important information relayed by your event caterers. This can range from the menu, serving times and procedure, all the way to health and safety regulations and dietary/allergy restrictions.
Choose Four Elements For Professional Event Catering
For impeccable service and high-quality event catering, look no further than Four Elements Catering. Our chefs are fully trained and have worked in renowned establishments all over Devon and Europe. We strive for customer satisfaction and fantastic food, so get in touch today to find out more.